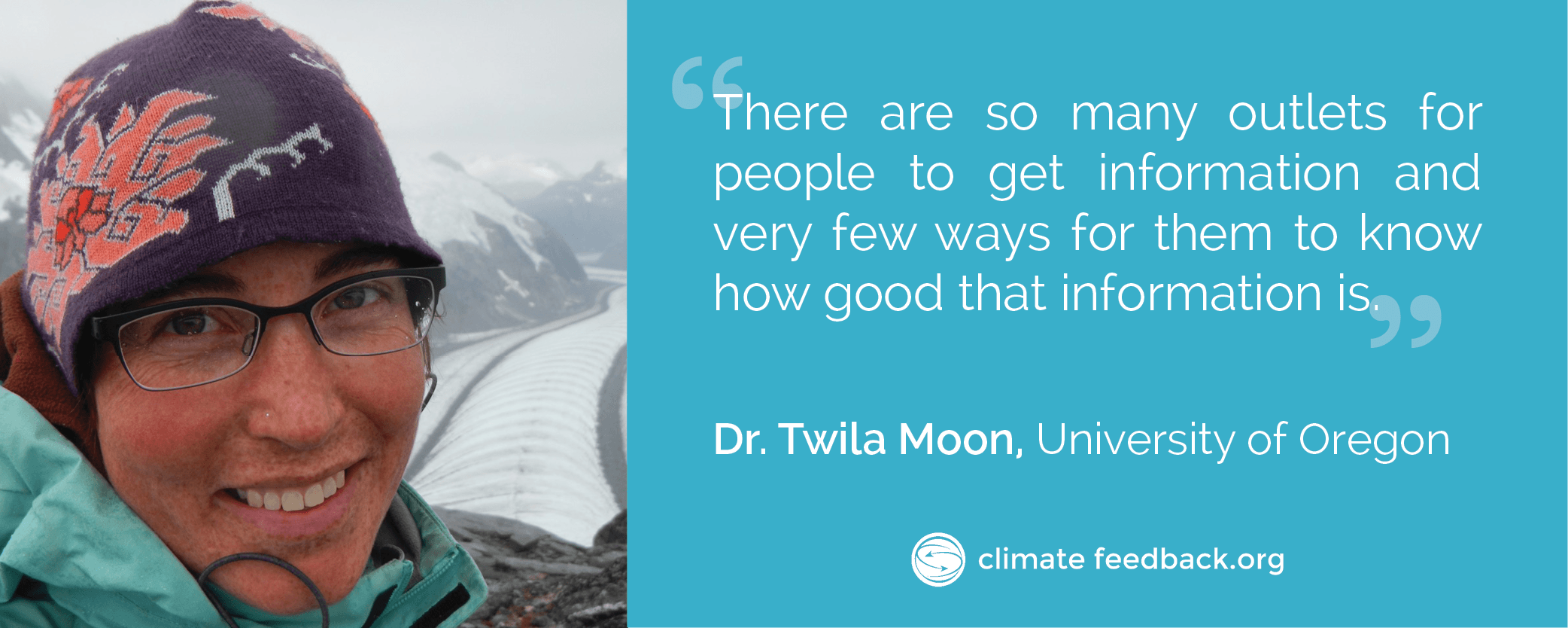 Climate Feedback's work evaluating the scientific accuracy of climate change narratives in the media has already had a significant impact, and this success reflects the efforts of the network of climate scientists, who contribute their expertise and passion for scientific communication by annotating and evaluating a growing body of online content. Dr. Twila Moon provided annotations of several media articles in 2015, and contributed to evaluations of climate related statements from presidential candidates. Dr. Moon is an expert in the behavior of large ice sheets in Greenland and the Antarctic, and works to understand their interactions with the ocean and other large scale climate system components. Her research combines field studies, use of Geographic Information Systems and analysis of big data to examine questions with both local and continental climate implications.
Dr. Moon's educational and scientific background demonstrates the standard of expertise that annotators bring to Climate Feedback, ensuring that the project is based on established climate science and cutting edge research. Dr. Moon is currently a National Science Foundation fellow in ocean sciences at the University of Oregon's Department of Geological Sciences, and in 2016 Dr. Moon will begin a faculty position at the University of Bristol in the UK, where she'll join the School of Geographical Sciences and the Bristol Glaciology Center.
It would be great to see […] the science… not being politicized but being respected as true information

In addition to her professional research, Dr. Moon is dedicated to improving science based communication and education, and is concerned about the challenges the public faces in gaining access to reliable, accurate information that remains independent of bias.  "Increasing scientific awareness and literacy is important to me… my biggest concern is that people get false information" says Dr. Moon. "They get information that is out of context or only tells a part of the story, and serves the purpose of some view that is not science… people go to different places for their news and information, and so many of those have their own biases. It would be great to see people in many different spheres getting the same information about what [scientists] are actually seeing… and to see the science… not being politicized but being respected as true information."
Dr. Moon recently leveraged her expertise in ice sheet behavior to address misleading information in James Taylor's article "Updated NASA Data: Global Warming Not Causing Any Polar Ice Retreat". In this article James Taylor fails to distinguish between sea and land ice and the Arctic and Antarctic for instance. He also focuses on polar ice area to support his claim that polar ice is not retreating. Dr. Moon explains that area is not the most relevant criteria to study the influence of warming on ice sheets:
James Taylor says: "Total polar ice area – factoring in both sea and land ice – had receded by much less than 10 percent".
Dr Moon comments: "The focus on areal extent of ice – both sea ice and land ice – is misleading. Both sea ice and land ice have thickness as well as area. This is why scientists very commonly measure volume changes. It turns out that Arctic sea ice and the Greenland and Antarctic Ice Sheets have all lost significant volume as sea ice thins and the coastal regions of ice sheets thin."
I like the possibility that you get to choose your own adventure
Dr. Moon has been enthusiastic about using the Hypothes.is annotation tool through Climate Feedback to help solve the challenge of providing a reliable source for evaluating climate change coverage. "I like the possibility that you get to choose your own adventure. I can choose to spend very little time and just comment on one or two things or I can spend a lot of time and make longer explanations. I feel that it's a really efficient and effective use of scientists' time… I really value that I am using my time for something that is going to be in the public sphere." Dr. Moon notes that the project is an asset for the public, but also for contributing scientists. "You see what [colleagues] are commenting on and how they are addressing it, so I feel that I have also learned along the way some good sources to back up arguments or to explain information". She looks forward to Climate Feedback's continued development as "…a place [where] people, journalists, and organizations go to understand whether the information they are reading is true."
By Benjamin Okun and Christelle Perrin
Find out more about Dr. Moon's research and interests:
twilamoon.com
Interview in Science Magazine
@twilamoon