Two scientists analyzed the article and estimate its overall scientific credibility to be 'high'. more about the credibility rating
A majority of reviewers tagged the article as: Accurate.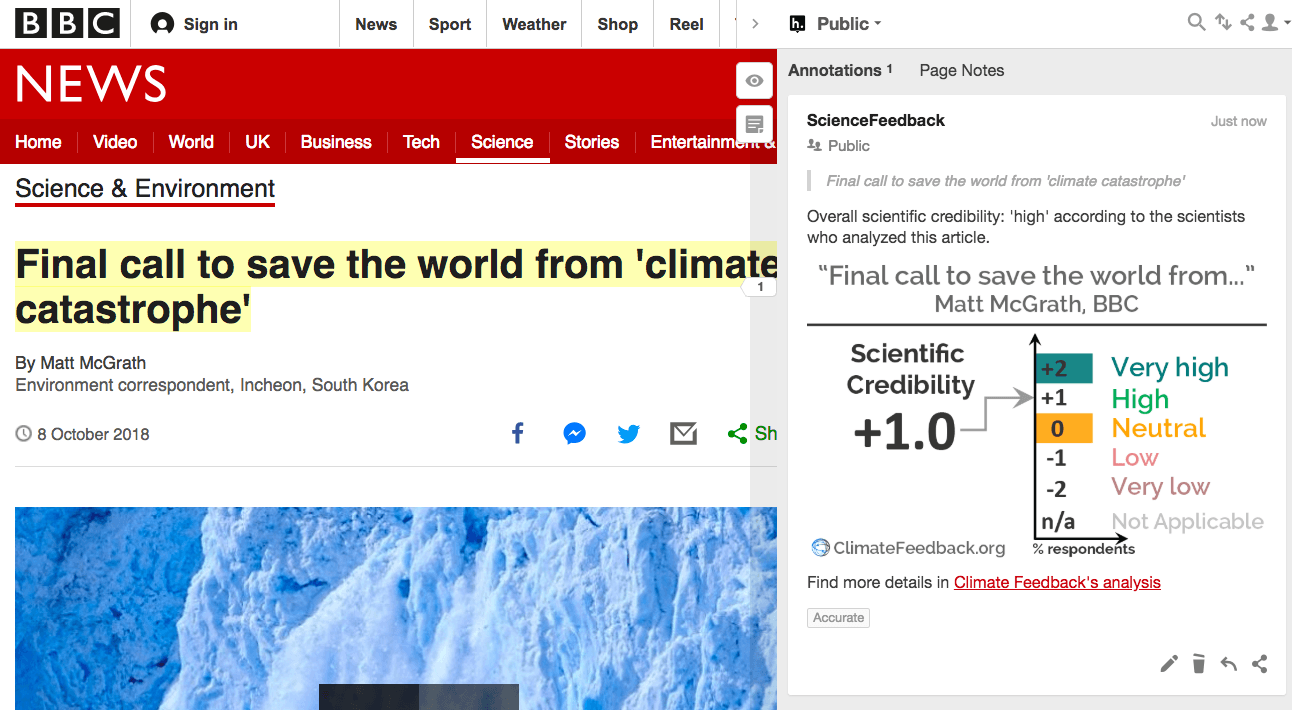 SUMMARY
This BBC story covered the October release of the IPCC's "Global Warming of 1.5 °C" report. The report, which was requested by governments during the 2015 Paris Agreement negotiations, details the impacts of 1.5 °C compared to 2 °C and the emissions cuts required to limit warming to either of those levels.
Scientists who reviewed the story found that its summary of the report is generally accurate. However, some details could have been explained to give readers a clearer understanding.
This is part of a series of reviews of 2018's most popular climate stories on social media.
GUEST COMMENTS
Sally Brown, Senior Research Fellow, The University of Southampton:
Whilst not being able to check all facts in detail, this article provides a well-rounded view of the science using common questions and puts it in perspective, using graphics in an easy to understand way. Quotes are from a mix of scientists and NGOs, so provides a balanced perspective from those at the meeting. There is global representation but also a discussion of individual actions, so the article reaches to different audiences.
REVIEWERS' OVERALL FEEDBACK
Joeri Rogelj, Research Scholar, International Institute for Applied Systems Analysis (IIASA):
Scientifically, the article is overall correct, but it is in cases inaccurate in its description of certain aspects of the IPCC. For example, the IPCC does not conduct research, but assesses the available scientific evidence. Neither Dr. Debrah Roberts nor Prof. Jim Skea are a co-chair of the IPCC (no such role exists)—they are co-chairs of two of the three Working Groups of the IPCC. (In this case, Working Group 2 on impacts and Working Group 3 on mitigation and solutions, respectively.)
The article also provides statements without context, despite this being essential for their interpretation. For example, the annual investment needs in the energy sector for achieving a 1.5°C compatible pathway are indeed roughly 2.5% of global GDP, but this compares to about 1.8% of global GDP in a world in which we put the world on track for 4°C by the end of the century. The difference in investments is also roughly an order of magnitude smaller than the annual percentage of GDP we spend on energy. The absence of this context makes it impossible to judge whether the editor's value judgment that limiting warming to 1.5°C would be "hugely expensive".
Notes:
[1] See the rating guidelines used for article evaluations.
[2] Each evaluation is independent. Scientists' comments are all published at the same time.