Six scientists analyzed the article and estimate its overall scientific credibility to be 'low'. more about the credibility rating
A majority of reviewers tagged the article as: Clickbait headline, Misleading.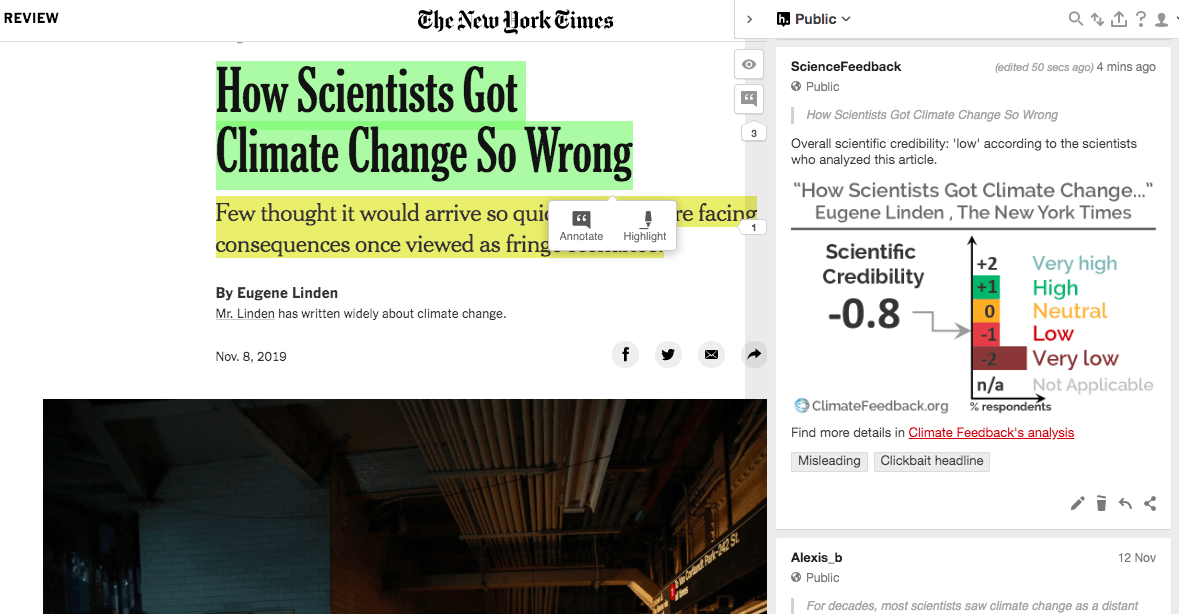 SUMMARY
This op-ed by author Eugene Linden, published under the headline "How Scientists Got Climate Change So Wrong", argues that climate scientists have long underestimated climate change. The article discusses the state of science as far back as the 1950s but focuses on the period since the 1990s, claiming that we are now seeing climate impacts previously thought to be far in the future.
Scientists who reviewed the article found that some of the evidence used to support this argument is based on a misrepresentation of the state of scientific knowledge at points in the past. Although the article discusses some topics accurately, such as noting advances in the understanding of ice sheets over the years, it fails to acknowledge many long-accurate predictions that show how useful climate projections have been in warning of the impacts of climate change.
In the annotations below, scientists highlight specific reports and studies that don't match the descriptions given in the article. For example, the article states that the First Assessment Report of the Intergovernmental Panel on Climate Change, published in 1990, concluded that "climate change would arrive at a stately pace". But if anything, that report projected slightly more rapid warming than what the Earth has experienced so far—partly because humans have emitted a little less greenhouse gas than the scenario used in the report to project warming.
See all the scientists' annotations in context. You can also install the Hypothesis browser extension to read the scientists' annotations in context.
GUEST COMMENTS
Summer Praetorius, Research Geologist, (views are my own):
The main flaw in the author's argument that scientists have "underestimated" the rate and severity of climate change is that the author predominantly points to recent extreme events as evidence of what scientists "failed to predict" (such as the heat wave that extended into the Arctic and drove rapid melting of the Greenland Ice Sheet or recent hurricanes). The author implies that scientists did not give the public fair warning about the potential of such events. Firstly, scientists cannot predict the particular extreme events that will unfold decades in the future. What they can and did do (quite accurately in the IPCC assessments) is to provide estimates for long-term projections based on the best available data and models. Against this long-term backdrop of global change will inevitably be the local and regional-scale extreme events and tipping points that are inherently difficult to predict. The author cites one such consensus report from nearly 2 decades ago: "Abrupt Climate Change: Inevitable Surprises", which in the very title conveys this basic message—climate change will manifest in abrupt and surprising ways.
Abrupt climate change by its very nature is difficult to predict. Despite this inherent difficulty, there has been scientific research and progress in trying to assess the likelihood of certain tipping points1. And to try and anticipate early warning signs prior to critical transitions. For example, this study2 and a more recent report from 2013: "Abrupt Climate Change: Anticipating Surprises"3.
Secondly, while I do agree that awareness of abrupt climate change and the ways in which long-term changes will increase the severity and probability of extreme events is generally lacking among the wider public, to somehow blame this on the scientists who have been working to understand and disseminate this knowledge for decades is a complete mislocation of blame. The author completely neglects the wider social and political context through which perception of scientific understanding and climate action/adaption has occurred.
None of this is to say that scientists knew everything and got it all right decades ago. Of course they didn't. To quote the author, "Science is a process of discovery. It can move slowly as the pieces of a puzzle fall together and scientists refine their investigative tools." So, yes, scientists are still actively working to understand more about the dynamics of abrupt climate and potential ways to anticipate inherently "unpredictable" phenomena, all while trying to keep up with the pace of climate change.
REVIEWERS' OVERALL FEEDBACK
These comments are the overall assessment of scientists on the article, they are substantiated by their knowledge in the field and by the content of the analysis in the annotations on the article.
Alexis Berg, Research Associate, Harvard University:
In my view, this article misrepresents the history of climate science (in particular, what was known from the 70s to 90s) to try to make up a case that climate scientists "got climate change so wrong", i.e., completely underestimated its pace and amplitude. I found numerous factual errors and mis-interpretations in this presentation. The reality is, since at least the 80s, climate scientists have been making broadly consistent projections (to whomever was listening). The observed pace of warming is on par with these projections—not faster. What's true is that some impacts of that warming are happening faster than initially anticipated. That includes the melting of polar sea ice and ice caps. The author here focuses a lot on these aspects, but these are just one aspect of climate change, amongst many others—for which changes are unfolding essentially as expected. So, overall, to me this article presents an incomplete and biased view of climate change. I found the title, in particular, very problematic (it may not have been written by the author, though, but instead by the paper).
Amber Kerr, Researcher, Agricultural Sustainability Institute, University of California, Davis:
Most of the specific facts and statistics in this op-ed are correct, but the overall effect is significantly misleading. The author's central point is that scientists have been drastically underestimating the scope and the pace of climate change until just the past decade or so, and recent events such as permafrost melting, ice cap loss, and extreme weather events have caught them by surprise. This is simply not true.
Predictions on the overall pace of global warming, and on its specific effects, have been quite consistent (and broadly accurate) since at least 1990, and in some cases since the late 1970s. For example, the cover story of TIME Magazine on October 19, 1987 was titled "The Heat is On."1 This article warned the American public that "man-made contributions to the greenhouse effect, mainly CO2 that is generated by the burning of fossil fuels, may be hastening a global warming trend that could raise average temperatures between 2 degrees F and 8 degrees F by the year 2050." That is, if anything, somewhat higher than current predictions.
Similar critiques can be made of Mr. Linden's claim that economists were universally unconcerned about the costs of climate change. Even in the late 1990s and early 2000s, that was not true. He cites William Nordhaus to make his point, but he doesn't cite any other economic damage estimates, such as those made by Richard Tol in 20021 or, even more on the pessimistic end, Nicholas Stern in 20062.
I especially object to the article's title: "How Scientists Got Climate Change So Wrong." It implies that inaction on climate change can largely be blamed on unimaginative scientists conforming to a status quo belief that climate is nearly immovable and human perturbations are insignificant. According to Linden, scientists didn't think "abrupt climate change" was possible until the publication of some Greenland ice core data in the mid-1990s and a paleoclimate summary report in the early 2000s. That is not really true. Scientists were sounding the alarm about rapid anthropogenic climate change as early as the late 1970s. (I studied with climatologist Stephen Schneider at Stanford in the late 1990s, and he was just as concerned about climate change then as he was a decade later.) This ongoing calamity, in which climate scientists presented well-grounded and deeply worrying predictions to policymakers only to be ignored, was described very well in another NY Times article, "Losing Earth: The Decade We Almost Stopped Climate Change".
Mr. Linden's goal with this op-ed may have been to drum up increasing public concern for climate change. If so, that is a worthy goal, but I believe he is going about it in the wrong way—by criticizing climate scientists for their supposed timidity and failed predictions, when in fact climate scientists have presented a remarkably consistent series of predictions for at least the past three decades (even if those predictions have fallen on deaf ears).
Lauren Simkins, Assistant Professor, University of Virginia:
This article sheds light on how the "worst case" scenarios for future climate and sea level could be worse than previously modeled. The presented science is largely accurate and supports current peer-reviewed scientific literature on the topic. In a few cases, clarification or disclaimers are needed to reflect uncertainty in the current state of ice sheets and their contributions to sea level as some statements in the article portray definitive certainty when that is not entirely the case.
Peter Neff, Assistant Research Professor, University of Minnesota:
To blame the very scientists who identified global warming and continue to monitor its impacts across the world, while ignoring the active efforts in support of disinformation is grossly irresponsible. The author cites many facts, for instance about Antarctic glaciology, but omits important details that expand the timeline of research and warnings back 40 years.
Notes:
[1] See the rating guidelines used for article evaluations.
[2] Each evaluation is independent. Scientists' comments are all published at the same time.
The statements quoted below are from the article; comments are from the reviewers (and are lightly edited for clarity).