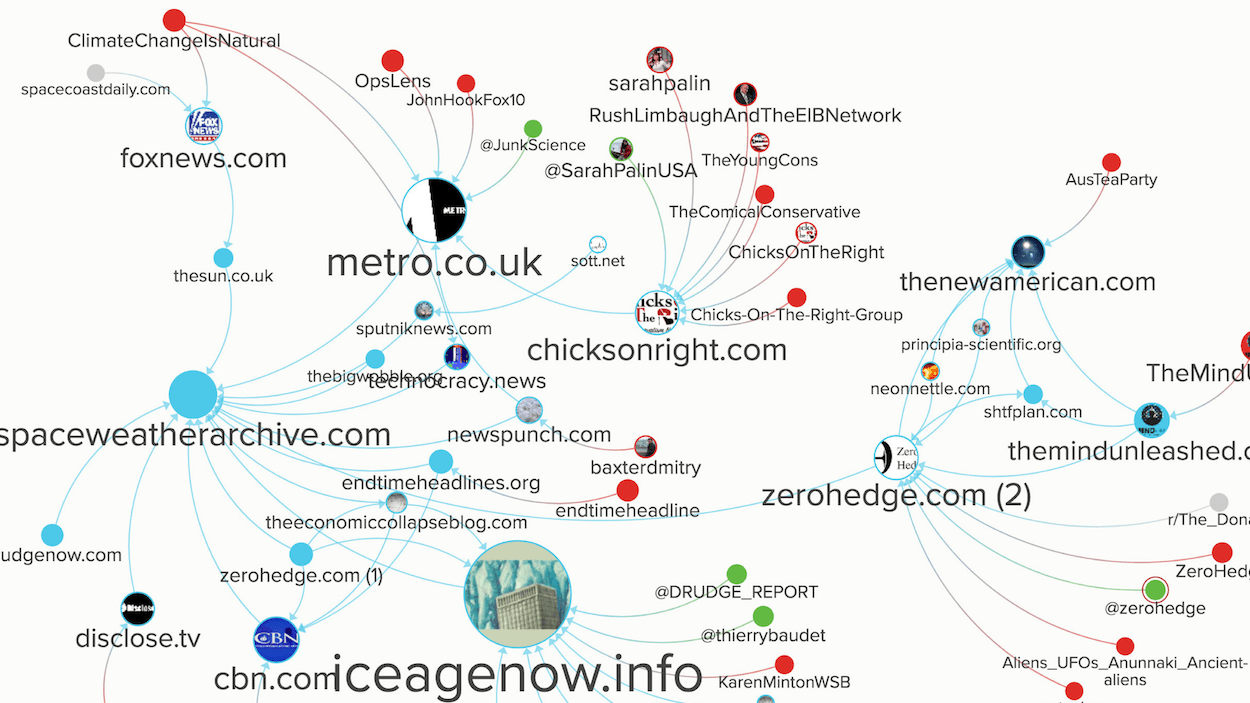 Solar Minimum expected to cool the upper-atmosphere
Recently, a claim that we are heading towards a mini ice age has been popping up across the web. This was the subject of a widely discussed Metro article titled "A mini ice age could be on the way which means it will get very, very cold". Similar claims that we would be heading towards an imminent "mini ice age" were also repeated without verification throughout a network of unreliable outlets for climate news including Sputnik, The Sun, Fox News, and numerous hyper-partisan blogs such as Zero Hedge, Principia Scientific, IceAgeNow, Alien-Star… (listed in the table below).
The stories claim to be based on a September 27th article at Space Weather Archive, in which NASA scientist Martin Mlynczak discusses the influence of current low solar activity on the Earth's thermosphere—a layer of the atmosphere that begins about 65 miles above the surface. Mlynczak explained to Climate Feedback that headline claims of coming cold weather are "false":
There is no relationship between the natural cycle of cooling and warming in the thermosphere and the weather/climate at Earth's surface. NASA and other climate researchers continue to see a warming trend in the troposphere, the layer of atmosphere closest to Earth's surface.
UPDATE (22 Nov. 2018):
The Metro article has been updated following publication of our review. The author completely changed the title and the main claim of the article, making it clear that no mini ice age would be imminent. Read the details in our claim review: "
Metro's claims of coming "mini ice age" have no basis in reality
".
UPDATE (23 Nov. 2018):
The Sun article has also been updated to clarify that the low temperatures would not influence the Earth's climate. See
details here
.
UPDATE (24 Nov. 2018):
Fox News has also updated its article. It now clarifies that "the Earth's climate will remain unaffected", and that "NASA and other climate researchers continue to see a warming trend in the troposphere, the layer of atmosphere closest to Earth's surface." See
this revised version of the article
.
A recurrent issue
Claims of an imminent "mini ice age" linked to solar activity appear frequently at certain outlets, as they make for attention-grabbing stories that purport to contradict projections of human-caused climate change. Scientists have debunked similar statements in the past: see this July 2015 review of a Telegraph article titled "Earth heading for 'mini ice age' within 15 years" and this review of a claim made in a booklet by the Heartland Institute aimed at children in the US titled "A lull in solar activity would have little effect on global temperatures…".
It is useful to note some common failures in these stories, which illustrate why the outlets publishing them are unreliable sources of information about climate change:
1) Misrepresentation of sources:
All these reports take the source quotes out of context, creating a new and misleading meaning. It would have been easy for any of these authors to contact the scientist and verify that they are interpreting his findings properly, as we did and science journalists do as a matter of routine professional practice.
2) Use of imprecise language:
Few of these stories explained that the cooling discussed was occurring in the thermosphere—much less what the thermosphere is. And by using terms such as "mini ice age", they lead readers to think the scientist's quotes refer to surface temperatures. For example, people who read that "it's going to get very, very cold" are certainly not going to immediately guess that "it" is the thermosphere.
Responses to these stories on social media make it clear that the message many readers took away is completely inaccurate. The Facebook page 'Climate Change is Natural', for instance, shared the Metro article with the accompanying comment:
"Humanity is facing a long, cold winter which could see temperatures across the planet plunge to depressing lows. According to a NASA scientist…"
These stories are also being used to claim that global warming has stopped. For instance, a blogger (Steve Milloy) commented on Twitter while sharing the Metro article: "Nature poised to compel an end to global warming hysteria?", while a Fox 10 News anchor commented, "I thought we were heading for apocalyptic global warming? These guys can't seem to make up their minds…"

Online propagation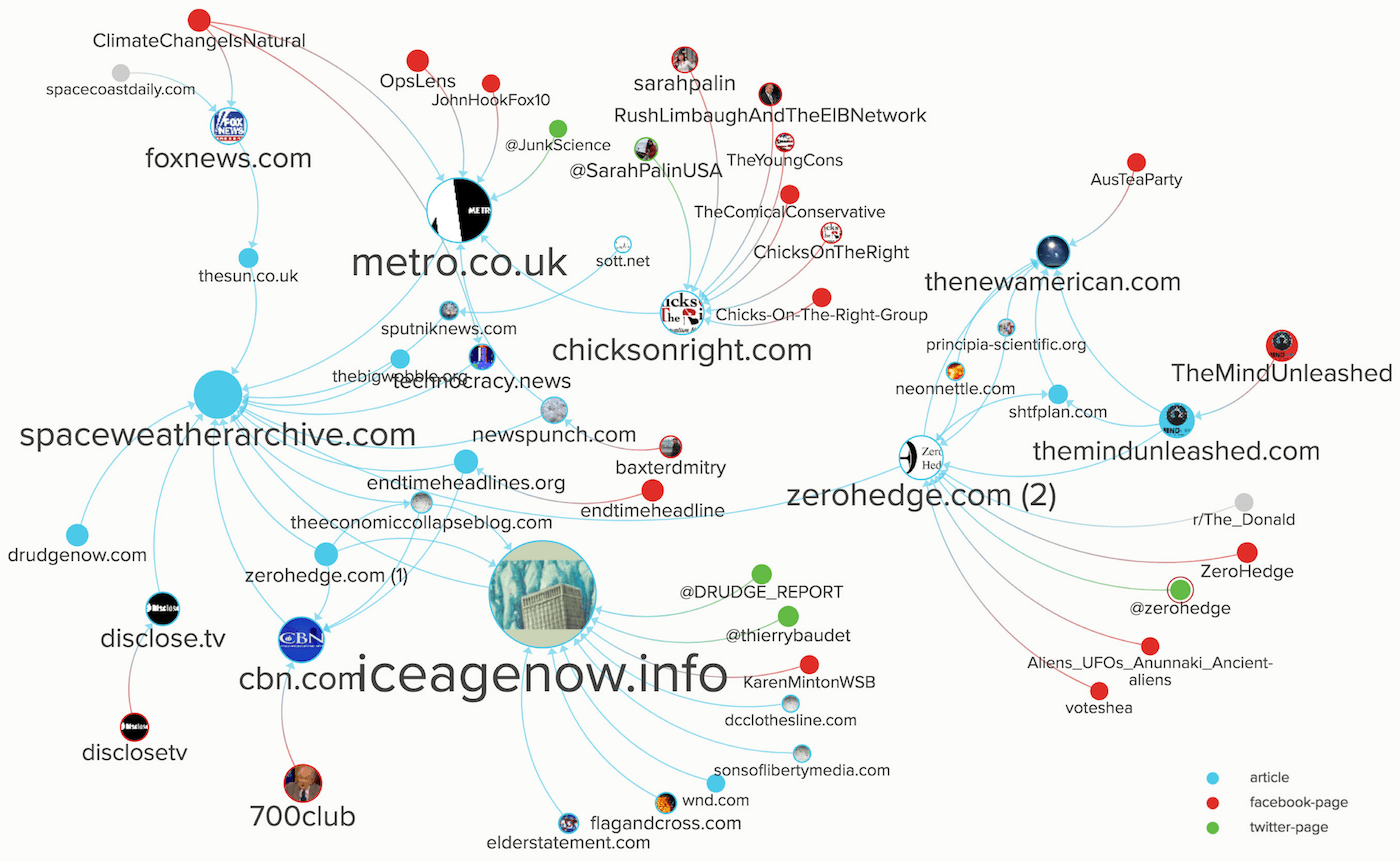 Figure – The network of outlets, blogs, and social media profiles who have shared and endorsed the claim that an imminent "mini ice age" would be coming based on a misinterpretation of the original article at Space Weather Archive. Dot sizes are proportional to the total number of shares and interactions on social media; arrows represent citations from an article/social media profile to its source.
These stories have also spawned junk videos on YouTube. This video, which has gathered more than 13,000 views as of writing seems to be read word for word from the Zero Hedge article, for example. YouTube readily recommends a host of similar videos wrongly claiming that a mini ice age is coming (e.g. this video that has been seen nearly 430,000 times or this one with 215,000 views).
The articles have been shared more than 130,000 times on social media, with 90% of those occurring on Facebook. This illustrates how a host of blogs and online news sources all repeated false information without verification, which is then promoted to millions by influential Facebook groups and Twitter individuals, including American politicians like Sarah Palin.
Unless some readers investigated further, searching for the origin of Martin Mlynczak's quotes and learning more about the topic, all of those people were fundamentally misled by these wildly inaccurate stories.
Table – List of the most shared articles repeating the false claim that an imminent "mini ice age" would be coming. Data from buzzsumo.com
TITLE

DOMAIN

SHARE#

Lack of sunspots to bring record cold, warns NASA scientist – Ice Age Now

iceagenow.info

31446

A mini ice age could be on the way which means it will get very, very cold

metro.co.uk

16708

Something's Happening to the Sun Right Now, Here's What It Means for Earth

cbn.com

10170

Mini Ice Age' Looms As NASA Scientist Warns Lack Of Sunspots Could Bring Record Cold

zerohedge.com (2)

9516

Scientists Are Now Saying A 'Mini Ice Age' Is On Its Way

chicksonright.com

9447

NASA warns long cold winter could hit space in months bringing record low temperatures

foxnews.com

6990

Mini Ice Age' Looms as NASA Scientist Warns of Potential Record Cold

themindunleashed.com

6292

The Chill Of The Solar Minimum Is Coming, Says NASA Scientist

disclose.tv

5900

NASA Sees Climate Cooling Trend Thanks to Low Sun Activity

thenewamerican.com

5842

Scientists Find Earth is Cooling, Not Warming; NASA Predicts Mini-Ice Age

newspunch.com

3400

NASA Scientists: Lack Of Sunspots To Bring Record Cold

technocracy.news

3218

Something's Happening to the Sun Right Now, Here's What It Means for Earth

endtimeheadlines.org

2216

Solar Minimum – A Mini Ice Age Coming Soon

alien-star.org

2080

November Snow In Texas? Experts Warn Decreased Solar Activity Will Shatter All Global Climate Models

zerohedge.com (1)

2036

Lack of sunspots to bring record cold, warns NASA scientist

drudgenow.com

1629

NASA Scientist Warns of Strange Solar Activity and Record Cold

flagandcross.com

1617

November Snow In Texas? Experts Warn Decreased Solar Activity Will Shatter All Global Climate Models

theeconomiccollapseblog.com

1554

Lack of sunspots to bring record cold, warns NASA scientist

elderstatement.com

1195

NASA Warns Record Low Temperatures Could Be On the Way After Latest Sunspot Activity

spacecoastdaily.com

1117

Long cold winter could hit space in months bringing record low temperatures, NASA warns

thesun.co.uk

753

With Sunspot Activity Nearing Record Lows, Scientists See Bitter Winters Ahead

sputniknews.com

749

A mini ice age could be on the way and it's going to get very, very cold

drudgenow.com

697

NASA Scientist Warns: The Lack Of Sunspots Could Bring Record Cold

shtfplan.com

656

NASA Scientist Warns Lack of Sunspots Could Bring 'Mini Ice Age' on Earth

neonnettle.com

613

NASA claim whole global temperature about to plummet in a matter of months

thebigwobble.org

582

Is Humanity in danger of a coming "Mini Ice Age"?

endtimeheadlines.org

346

Lack of sunspots mean record cold, warns NASA scientist

wnd.com

300

November Snow In Texas? Experts Warn Decreased Solar Activity Will Shatter All Global Climate Models

sonsoflibertymedia

.com

280

Climate Scam Collapsing: 'Reality Is Cooling…MORE Snowfall' | PSI Intl

principia-scientific.org

209

November Snow In Texas? Experts Warn Decreased Solar Activity Will Shatter All Global Climate Models

dcclothesline.com

199

Growing Number of Climate Scientists Say That Warming Is Out And Cooling Is In

technocracy.news

122

NASA Scientist warns of record cold

thepalmierireport.com

109

November Snow In Texas? Experts Warn Decreased Solar Activity Will Shatter All Global Climate Models

freedomoutpost.com

107

A mini ice age could be on the way which means it will get very, very cold

weatheralertonline.blogspot.com

105

Cold Times: Preparing for the Mini Ice Age – Dr. Anita Bailey

youtube.com

103

Solar Minimum – A Mini Ice Age Coming Soon – Alien latest

latestalien.com

102

The Upcoming Mini Ice Age They Don't Want You To Know About

youtube.com

93

Oops! NASA spots climate cooling trend

freewestmedia.com

83

A Mini Ice Age? NASA Scientist Warns That Diminished Solar Activity Could Mean The Coldest Winter In Modern Times

themostimportantnews

.com

76

NASA: Climate Cooling With Low Sun Activity

climatechangedispatch.com

67

NASA scientist: Lack of sunspots to bring record cold

sott.net

57

The Coming Mini Ice Age Al Gore Forgot To Tell You About. InfoWars – Alex Jones Channel

real.video

55