Three scientists analyzed the article and estimated its overall scientific credibility to be 'high'. more about the credibility rating
A majority of reviewers tagged the article as: Accurate, Insightful, Unbiased.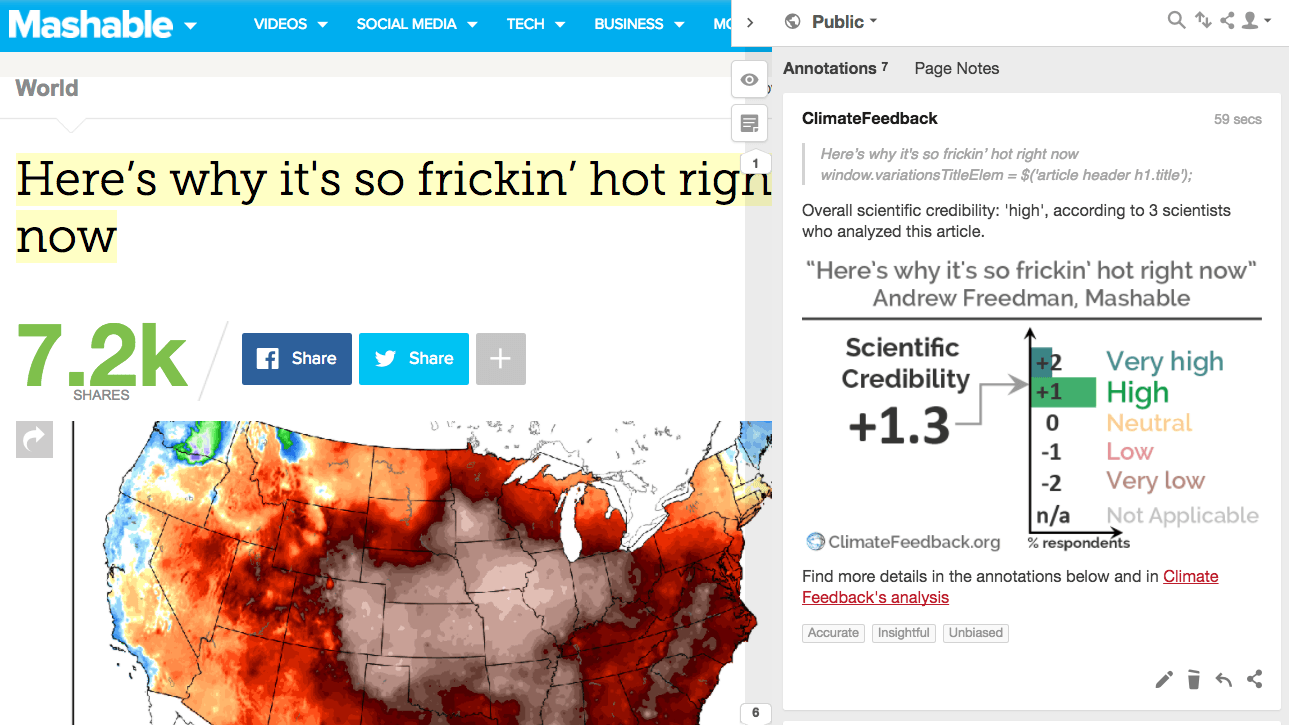 SUMMARY
This article at Mashable discusses the number of high temperature records set in the United States during the month of February. While short-term weather events are not indicative of climate changes, the statistics of weather events across regions and over time do reflect climatic trends. As the climate warms due to human activities, daily high temperature records will be set more frequently than new low temperature records.
The scientists who reviewed this article found that it accurately described recent US weather within this context.
See all the scientists' annotations in context
REVIEWERS' OVERALL FEEDBACK
These comments are the overall opinion of scientists on the article, they are substantiated by their knowledge in the field and by the content of the analysis in the annotations on the article.
Andrew King, Research fellow, University of Melbourne:
The article provides an overview of the recent record-breaking warm weather in parts of the US. It is well-researched and points to the most relevant literature in the field.
In the absence of a specific event attribution study we cannot quantify the role of climate change in this event. However, by pointing to the long-term trend in the ratio of record-setting, the article does a nice job of putting this event in the context of a warming world.
Ryan Sriver, Associate Professor, University of Illinois:
This is a well-written piece that provides a nice summary of the current warm events in the bigger context of climate change. I caution against using a single month of data to support claims about climate change impacts on extremes, but the discussion about record highs outpacing record lows is a good one and provides strong evidence for influence of global warming on regional weather.
Scott Robeson, Professor, Indiana University:
This is a solid article that accurately describes recent record warm events in the US. A global perspective would have helped, as the US represents just 4% of the area of the Northern Hemisphere.
Notes:
[1] See the rating guidelines used for article evaluations.
[2] Each evaluation is independent. Scientists' comments are all published at the same time.
The statements quoted below are from the article; comments and replies are from the reviewers.
1. The US has experienced an increasing number of record highs vs. record lows over the last few decades. Such trend in statistics provides strong evidence for a warming climate.
"Taken as a whole, the month-to-date in the U.S. has seen a ridiculously lopsided ratio of daily record highs to daily record lows, which is a key indicator of short-term weather variability and, over the longer term, human-caused climate change."
Andrew King, Research fellow, University of Melbourne:
This is an important qualification. We expect in a stationary climate that we would have some periods with more record hot temperatures than record lows and vice versa. Over an extended period of time, in a stationary climate, this ratio would average to be one. It's because this pattern of more record hot than record cold temperatures has persisted over recent decades that allows us to link this trend to climate change.
"As the planet warms in response to the buildup of greenhouse gases in the atmosphere, the ratio of high temperature records compared to low temperature records has become more skewed. If the climate weren't warming, that long-term ratio should average out to about 1-to-1."
Ryan Sriver, Associate Professor, University of Illinois:
The shift towards more warm extremes suggests the underlying distributions (weather) are changing. The climatology is shifting towards higher temperatures.
"While transient weather variability is playing a key role here, the widespread record warmth across the U.S. so far this year is part of a long-term trend toward more warm temperature records versus cold ones."
Scott Robeson, Professor, Indiana University:
The author correctly points out that it's the superposition of persistent, extreme jet-stream fluctuations and the background of rising temperatures that is leading to more record warm extremes. Whether the extreme jet-stream fluctuations themselves are part of the changing winter climate is still unclear.
Andrew King, Research fellow, University of Melbourne:
This paper is the first I'm aware of to highlight this effect over the US:
Ryan Sriver, Associate Professor, University of Illinois:
I agree that the year-to-year natural variability can contribute significantly to extreme temperatures, especially at local or regional scales. The disproportionate number of record highs versus record lows over several years-to-decades suggests that the seasonal temperature distributions (or likelihoods of experiencing a given extreme during any given season) are shifting toward warmer temperatures consistent with long-term anthropogenic global warming. How continued warming affects the tails of the distributions (beyond just shifting the location) is an interesting and open question.
---
2. February saw some unusual warmth in the US.

"So far this month, there have been nearly 5,000 daily record highs set or tied, compared to just 42 daily record lows."
Scott Robeson, Professor, Indiana University:
It is very appropriate to look at this ratio of record highs versus record lows, as the climate stations themselves have different periods of records and therefore different expected rates of records (all are "long term" and have at least 30 years of data but some have much longer periods of record). But, one would still expect a one-to-one ratio of record highs to record lows in a stationary climate regime.
"In Albany, New York, the high temperature of 74 degrees on Thursday was the warmest temperature on record for any day during the months of December, January and February."
Scott Robeson, Professor, Indiana University:
Seasonal records like this are even more impressive and much more robust as they are composed of much larger sample sizes than the individual day's values.
---