Five scientists analyzed the article and estimate its overall scientific credibility to be 'very low'. more about the credibility rating
A majority of reviewers tagged the article as: Derogatory, Flawed reasoning, Misleading.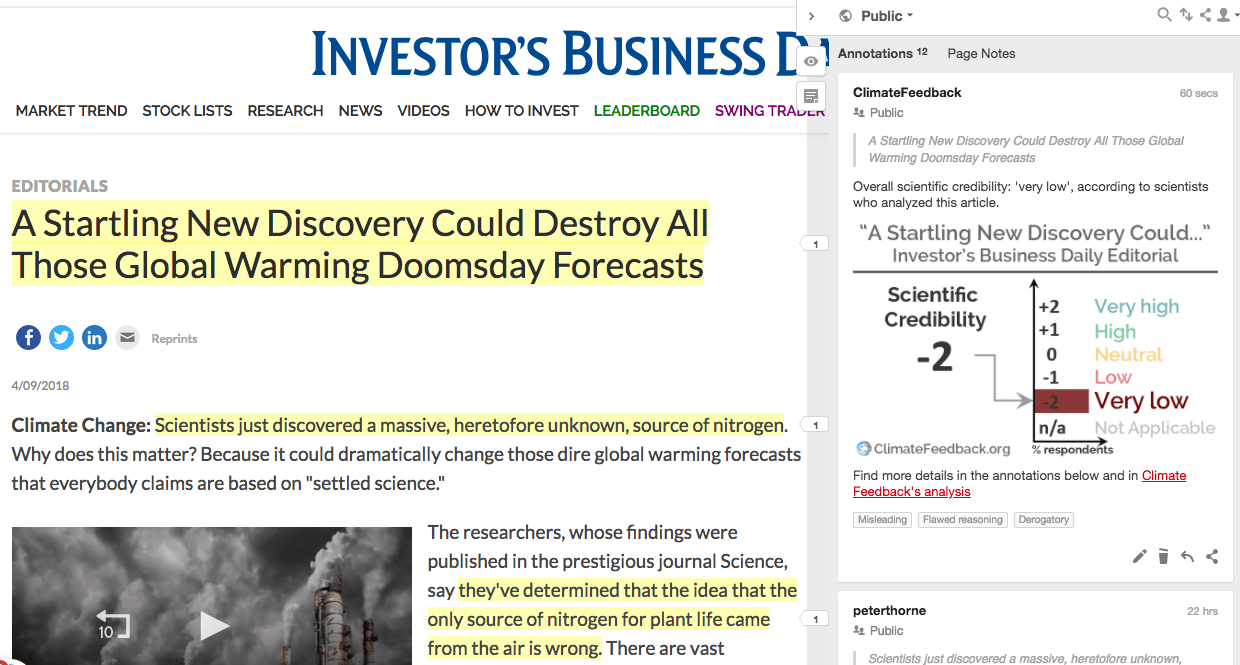 SUMMARY
This editorial by Investor's Business Daily centers on a recent study published in Science, which concerns the sources of nitrogen cycling through Earth's ecosystems. The editorial then claims that this study shows that plants will be able to soak up future human-caused emissions of carbon dioxide because nitrogen is plentiful, proving projections of rapid global warming wrong.
The first author of the new Science study, and other scientists who reviewed the editorial, explained that this is incorrect and poorly reasoned. If the editorial's claims about nitrogen availability for plants were true, past CO2 emissions would also have had little effect on the concentration in the atmosphere. We know this is false—the concentration of CO2 in the atmosphere has been steadily increasing since daily measurements began in 1958, and the Earth has warmed as a result.
See all the scientists' annotations in context
GUEST COMMENTS
Benjamin Houlton, Professor, University of California, Davis (first author of the Science study):
Our nitrogen study does not detract from the urgency of the climate problem, nor the unequivocal evidence of the role of carbon pollution in causing global climate change. The climate threat is clear and present and we must solve it rapidly by reducing emissions and capturing existing CO2 from the atmosphere.
Rock nitrogen, if shown to be a significant part of the terrestrial cycle in future research, will continue to contribute to carbon storage in vegetation and soil. But the amount of rock nitrogen available is not enough to counterbalance the need to aggressively reduce carbon emissions worldwide. Our study does not suggest or imply that rock nitrogen will solve global climate change. Rather, we must invest in a clean energy economy and create negative carbon capture technologies at scale to reduce the risks of climate change on people, infrastructure, natural habitats, and the economy.
REVIEWERS' OVERALL FEEDBACK
These comments are the overall opinion of scientists on the article, they are substantiated by their knowledge in the field and by the content of the analysis in the annotations on the article.
Charles Koven, Staff Scientist, Lawrence Berkeley National Lab:
This editorial totally misrepresents many things: the way nitrogen limitations are currently accounted for in global warming projections, the importance of the newly published work in governing carbon uptake by plants, and the way in which scientists construct models and incorporate new results.
Sara Vicca, Postdoctoral research fellow, University of Antwerp:
The article includes several false statements and flawed reasonings, and suggests without evidence that scientists refuse to see when their model assumptions and projections are wrong.
Notes:
[1] See the rating guidelines used for article evaluations.
[2] Each evaluation is independent. Scientists' comments are all published at the same time.
The statements quoted below are from the article; comments and replies are from the reviewers.
"Scientists just discovered a massive, heretofore unknown, source of nitrogen"
Peter Thorne, Professor, Maynooth University:
That the rocks in the crust of the planet contain nitrogen has been known for in excess of a century.
"If Houlton's finding about these vast, previously unknown nitrogen stores holds true, then it would have an enormous impact on global warming predictions."
Peter Thorne, Professor, Maynooth University:
Misleading inference. Nitrogen availability is just one factor in net primary productivity (carbon sequestration over land). Other factors include but are not limited to seasonal temperatures and precipitation patterns and availability of other nutrients. In some areas nitrogen may well be limiting but to imply it is the limiting factor is without basis. Sara Vicca, Postdoctoral research fellow, University of Antwerp:
This source has always existed, and still many ecosystems are nitrogen limited. This demonstrates that nitrogen from rocks cannot resolve nitrogen limitation.

Charles Koven, Staff Scientist, Lawrence Berkeley National Lab:
This is wrong. The majority of Earth system models used for global warming projections in the most recent IPCC assessment didn't include any nitrogen constraints at all. What this means is that they assumed plants would be able to take up excess CO2 without this nutrient limitation—so its a case where almost all the models have a known limitation that will bias their results towards assuming less global warming than they should. So the Houlton paper, if correct, suggesting that the limitation by nitrogen is weaker than some previous estimates, would still imply a stronger constraint than the Earth system models that don't include nitrogen at all.
"But climate scientists assumed that the ability to plants to perform this function was limited because the availability of nitrogen in the atmosphere was limited."
Peter Thorne, Professor, Maynooth University:
Given that nitrogen by volume constitutes 78% of the Earth's atmosphere it could hardly be described as limited.
Climate scientists know that the ability is limited because we can, within uncertainties, close the carbon budget. This closure shows that roughly for every three carbon dioxide molecules emitted by fossil fuel combustion one is ending up in the ocean, one in the terrestrial biosphere, and one remains in the atmosphere. This is an observed and verified behaviour. Plants are removing approximately 1/3 of the excess carbon added by humans and this has remained broadly stable over several decades.
"'there will not be enough nitrogen available to sustain the high carbon uptake scenarios.'"
Peter Thorne, Professor, Maynooth University:
This is around whether there may be a reduction in the ability in future of the terrestrial biosphere to uptake carbon. If nitrogen is the sole limitation then indeed the risk is a reduction in ability of the biosphere to uptake carbon. But, it is over-simplistic to consider nitrogen uptake the sole potential limiting factor as implied by this quotation.
"Houlton has been exploring this possibility for years. Back in 2011, he reported that forest trees can tap into nitrogen found in rock. At the time, he said 'the stunning finding that forests can also feed on nitrogen in rocks has the potential to change all projections related to climate change,' because it meant there could be more carbon storage on land and less in the atmosphere than climate models say."
Peter Thorne, Professor, Maynooth University:
It should be noted that much of the Net Primary Productivity arises from grasses and other non-boreal sources. If only trees that are deep rooted enough to reach bedrock can tap this source then the potential is very much geographically limited.
"They failed to predict a decadelong [sic] pause in global temperatures."
Peter Thorne, Professor, Maynooth University:
Individual runs of individual models did capture such behaviour as has been shown by a wealth of literature on the topic. On a decadal scale, natural variability plays an important role, as can short-lived forcing effects. The scientific community has a substantial understanding of the "pause" and its causes. This understanding builds rather than diminishes confidence in the climate models.
"Nor have various calamities that were supposed to have occurred by now materialized."
Kerry Emanuel, Professor of Atmospheric Science, MIT:
We predicted, 31 years ago, that hurricane intensity would increase with greenhouse gas concentrations. In 2013, Typhoon Haiyan set the world record wind speed in a landfalling tropical cyclone, and in 2015 eastern North Pacific Hurricane Patricia set an all time record for hurricane winds. Hurricane Irma of 2017 maintained category 5 status for longer than any storm on record. Do tell the residents of Tacloban, Puerto Rico, and the Virgin Islands that they have not experienced calamities.
"Meanwhile, the National Oceanic and Atmospheric Administration has been conducting highly suspicious temperature data manipulation. The changes in the temperature data consistently make the past seem cooler, which in turn makes the present seem warmer."
Peter Thorne, Professor, Maynooth University:
The NOAA temperature analyses have been thoroughly documented in the peer-reviewed literature, independently evaluated, and are comparable to several completely independently produced estimates. The largest adjustment serves to remove an artificial warming in the ocean temperatures in the mid-20th Century. This adjustment dwarfs all others applied. Unadjusted data show more warming since the late 19th Century than the adjusted records from NOAA and elsewhere do.