Three scientists analyzed the article and estimate its overall scientific credibility to be 'very high'. more about the credibility rating
A majority of reviewers tagged the article as: Accurate, Insightful.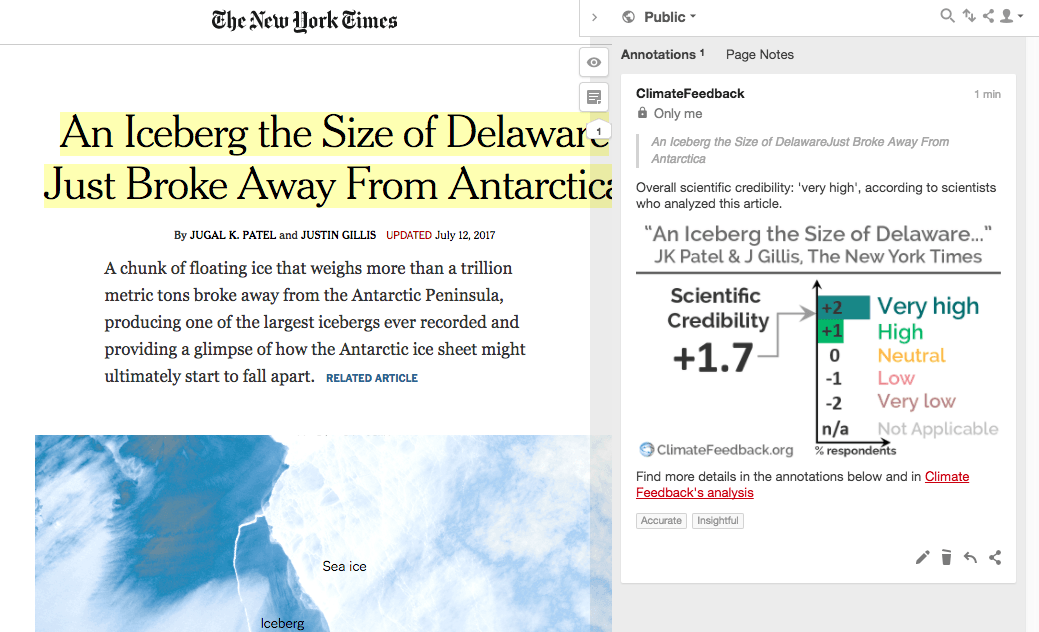 SUMMARY
This July 2017 article in The New York Times described a remarkable iceberg calving event at Antarctica's Larsen C ice shelf. Scientists who reviewed the article found it to be essentially accurate and informative, clearly explaining how this event relates to ongoing changes in the region (with minor exceptions, detailed below).
See all the scientists' annotations in context
This is part of a series of reviews of 2017's most popular climate stories on social media.
GUEST COMMENTS
Dan McGrath, Research Scientist, Colorado State University:
Well-written article with fabulous graphics for illustrating and explaining rift growth and the 2017 calving event on Larsen C. It correctly highlights future concerns about the potential loss of backstress from key ice rises on the ice shelf (Bawden and Gipps) and the idea that this is a "natural laboratory to study how breakups will occur at other ice shelves." Further, the article does a nice job explaining how ice shelves provide backstress to upstream glaciers, and why their loss would spell increased ice discharge/sea level rise.
However, some statements in the article are misleading, such as:
i) "Larsen C, like two smaller ice shelves that collapsed before it, was holding back relatively little land ice…." Larsen C has calved a large iceberg but has NOT collapsed.
ii) Rift growth and iceberg calving is not simply connected to atmospheric temperatures (like how surface mass balance processes are, but rather fracture growth is responding to glaciological stresses), hence it is somewhat misleading to make this connection "but scientists believe the ice is still catching up to the higher temperatures." There are certainly ways that this calving event could be connected to say warmer ocean temperatures that increased basal melting and changed the structure of the ice shelf, but this has not been documented at present.
REVIEWERS' OVERALL FEEDBACK
These comments are the overall opinion of scientists on the article, they are substantiated by their knowledge in the field and by the content of the analysis in the annotations on the article.
Twila Moon, Research Scientist, University of Colorado, Boulder:
The article does a good job of commenting on both the singular iceberg calving event and the larger picture of ice shelf change on the Antarctic Peninsula. The authors correctly note areas where scientists disagree or do not yet know the answer.
Allen Pope, Research Associate, National Snow and Ice Data Center, University of Colorado Boulder:
The article handles a complex topic well. It would be easy to be alarmist with this subject matter, and while its lede edges that way, the main content of the article is very balanced. It also presents a lot of interesting information in a compelling manner.
Notes:
[1] See the rating guidelines used for article evaluations.
[2] Each evaluation is independent. Scientists' comments are all published at the same time.
---