Five climate scientists analyzed the article and estimate its overall scientific credibility to be 'very high' to 'high'. more about the credibility rating
A majority of reviewers tagged the article as: Accurate, Insightful, Sound reasoning.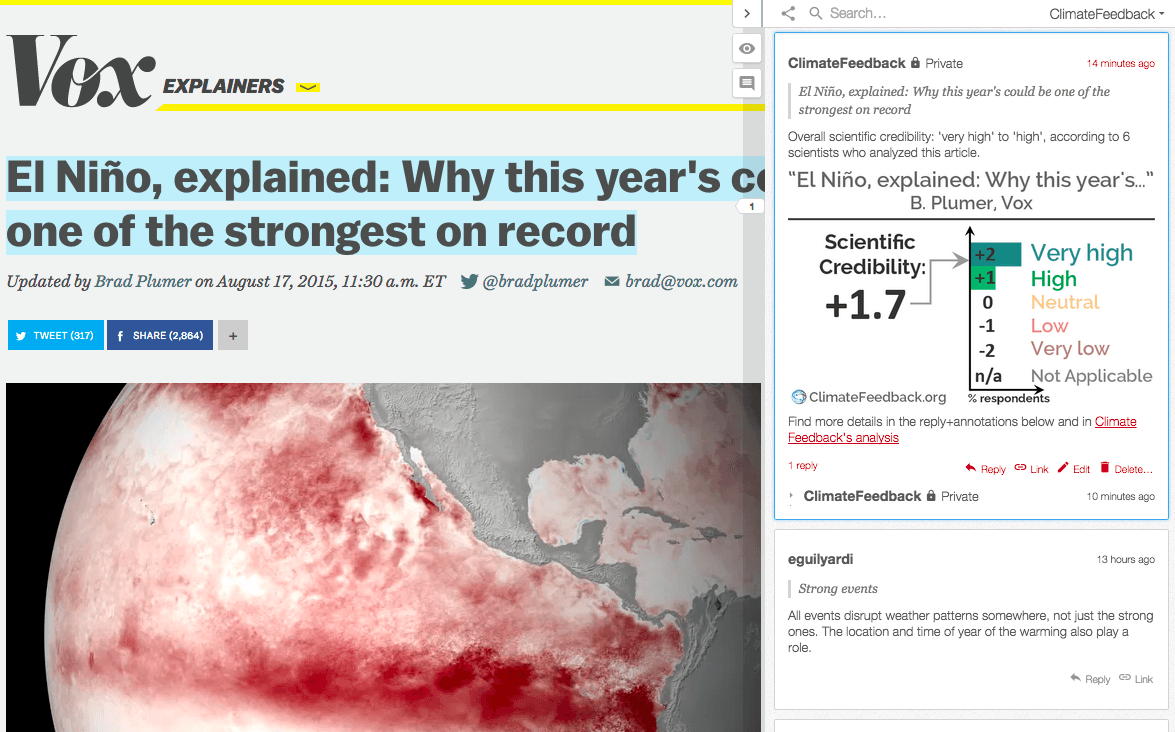 SUMMARY
Scientists unanimously qualify this article as accurate and informative. The article contains useful information for readers who are interested in learning about the ongoing El Niño event. The author correctly emphasizes the probabilistic nature of the impact of El Niño events on climate—the current El Niño, for instance, increases the odds of a rainy winter in California, but does not make it a certain outcome.
See all the scientists' annotations in context
GUEST COMMENTS
Wenju Cai, Principal Research Scientist, Commonwealth Scientific and Industrial Research Organisation (CSIRO)
This article is educational, logical, and useful to interested readers who want to know about the current El Niño, and/or to learn about El Niño and its impacts. The information flow-structure is also well thought out.
REVIEWERS' OVERALL FEEDBACK
These comments are the overall opinion of scientists on the article, they are substantiated by their knowledge in the field and by the content of the analysis in the annotations on the article.

Ailie Gallant, Research Fellow, Monash University:
This is a great article on the current El Niño and explainer on how El Niños often affect global climate, as well as regional climates around the world. The author has done a great job of providing caveats that all El Niños are different and that not every El Niño will bring rain or drought (depending on where you are) but think of it as "tipping the scales" towards those states. I think the author has done a good job of not overselling the current El Niño given that we're not sure exactly what the impacts will be until they happen. A nice explainer from Vox.
Julien Emile-Geay, Assistant Professor, University of Southern California:
A very well-informed piece, as scientifically accurate as can be for a didactic piece, and touching on all the impacts that people care about. I wish all climate reporting were half as good!
Michelle LHeureux, Scientist, US National Oceanic and Atmospheric Administration:
Brad wrote a very solid and informative article on this current El Niño. He provides a clear definition of El Niño and its potential impacts, and he also managed to communicate several more nuanced elements that many El Niño articles miss when they are promoting "Godzilla." In particular, I appreciate how he discusses that even though El Niño is quite significant, there is still uncertainty in the ultimate impacts on U.S. temperature and precipitation. Predicting climate months in advance is about making bets (favoring certain odds) because no impact is ever guaranteed. With that said, this upcoming winter will likely be quite interesting!
Eric Guilyardi, CNRS Research Director, Université Pierre et Marie Curie & Professor, University of Reading:
This is relatively well written piece that does explain the current El Niño event and the broader context. The links are helpful if one wants to understand more.