Eight scientists analysed the article and unanimously estimate its overall scientific credibility to be 'very low'. more about the credibility rating
A majority of reviewers tagged the article as: Cherry-picking, Inaccurate, Misleading.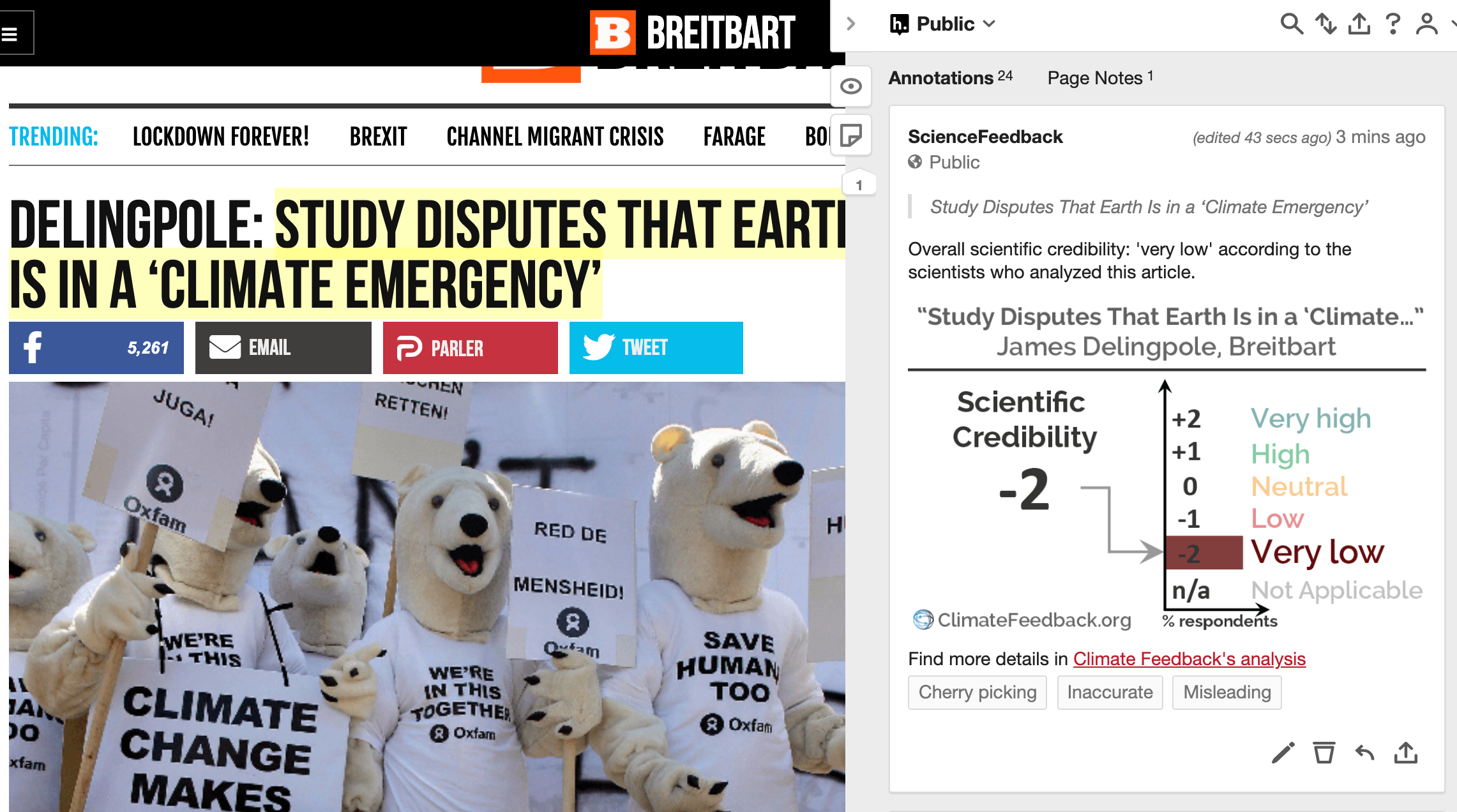 The article was published by Breitbart as well as dozens of other blogs, such as Climate Change Dispatch, Principia Scientific, Climate Depot, and Technocracy News. It is repeating a series of claims made in a blog post from the Global Warming Policy Foundation (GWPF), a political advocacy organization, which has published misinformation in the past. Scientists who reviewed the article found that it includes several inaccurate claims and cherry-picks information in a way that misleads readers about the scientific understanding of climate change.
Specifically, it states, "Most extreme weather phenomena have not become more extreme, more deadly, or more destructive". Contrary to this claim, the IPCC reports and numerous scientific studies demonstrated that global warming increases the intensity of many types of extreme weather events, as the scientists explain below[1-6]. In addition, some extreme weather events, such as heat waves and intense rainfall events, are becoming more common and the trend is expected to continue, as described in a previous Climate Feedback review.
The article is built on a series of misrepresentations of the expected consequences of climate change, a technique known as a straw man argument. For instance, the author presents an assumption that climate change will increase drought globally and then refutes this non-existent expectation of climate science. As explained by Dr. Swain below, "it doesn't really make sense to make blanket statements regarding overall global drought trends, since only some places are expected to get drier (and others wetter) in a warming climate".
The article also deliberately ignores multiple factors that affect some phenomena to argue against the influence of climate on them. For instance, while fatality due to weather events has either remained constant or declined over time for some types of weather events[7], this is primarily due to improvements in warning and evacuation systems and has little to do with climate change, as the reviewers explain below.
Contrary to the article, climate change has caused some extreme weather events to be more destructive, as scientists explained in a previous review. For example, global warming is causing the oceans to increase in temperature, more moisture in the atmosphere, and sea-level to rise, leading to more extreme precipitation and damage from tropical storms and hurricanes[4,5]. The area burned by wildfires in the western US has also increased significantly due to climate change (see figure below).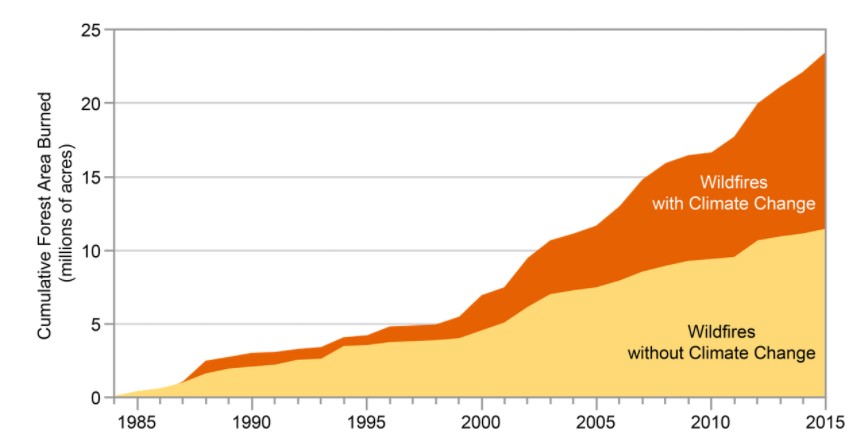 Figure 1—Cumulative forest area burned by wildfires in the western US from 1984-2015. From Fourth National Climate Assessment (2018)[8].
The article also makes several misleading claims about the impacts of nitrogen and carbon dioxide fertilization on food production. Carbon dioxide has increased plant growth in some regions of the world, but these effects are often limited by nutrient availability and can saturate over time[9,10]. Global warming is also damaging crop yields and slowing plant growth under some circumstances, and these effects are expected to continue in the future[11-13], as the reviewers explain below.
It is also misleading to call the GWPF post published by Dr. Indur Goklany a "study", as it does not include any original research nor was it peer-reviewed or published by a reputable scientific organization. Furthermore, Goklany is an electrical engineer, not a climate scientist, who hasn't published any peer-reviewed research in at least the past decade on the topics he wrote about in the GWFP post.
See all the scientists' annotations in context. You can also install the Hypothesis browser extension to read the scientists' annotations in context.
These comments are the overall assessment of scientists on the article, they are substantiated by their knowledge in the field and by the content of the analysis in the annotations on the article.
Daniel Swain, Climate Scientist, University of California, Los Angeles:
This article uses a single poorly-sourced, non-peer reviewed report as a basis for making numerous misleading and in multiple instances demonstrably false claims regarding climate change and its global implications.
Kerry Emanuel, Professor of Atmospheric Science, MIT:
The article is mostly inaccurate and uniformly misleading. For example, in declaring that hurricane frequency is not increasing, it neglects to mention that there was never a consensus prediction that the frequency of all hurricanes would increase, or in stating that weather-related deaths are decreasing fails to mention that the reasons for that have nothing to do with climate change but rather with rapidly improving warnings and preparedness.
Ana Bastos, Group Leader, Max Planck Institute for Biogeochemistry:
This is a biased and purposely misleading article that contradicts evidence-based scientific literature. The authors did not care to cross-check the claims made by Mr. Goklany nor to set them in the broader context of the scientific evidence about climate change and impacts (e.g. IPCC reports)[1].
Ryan Sriver, Associate Professor, University of Illinois:
The article's scientific credibility is very low. The author cherry-picks data, makes broad generalizations and characterizations based on incomplete or flimsy reasoning, and repeatedly misinterprets technological and economic progress in justifying false claims and misinformation minimizing global warming impacts.
The statements quoted below are from the article; comments are from the reviewers (and are lightly edited for clarity).
[You can read this review to learn more about climate change impacts on health.]