Six scientists analyzed the article and estimate its overall scientific credibility to be 'very low'. more about the credibility rating
A majority of reviewers tagged the article as: Biased, Flawed reasoning, Imprecise/Unclear, Inaccurate, Misleading.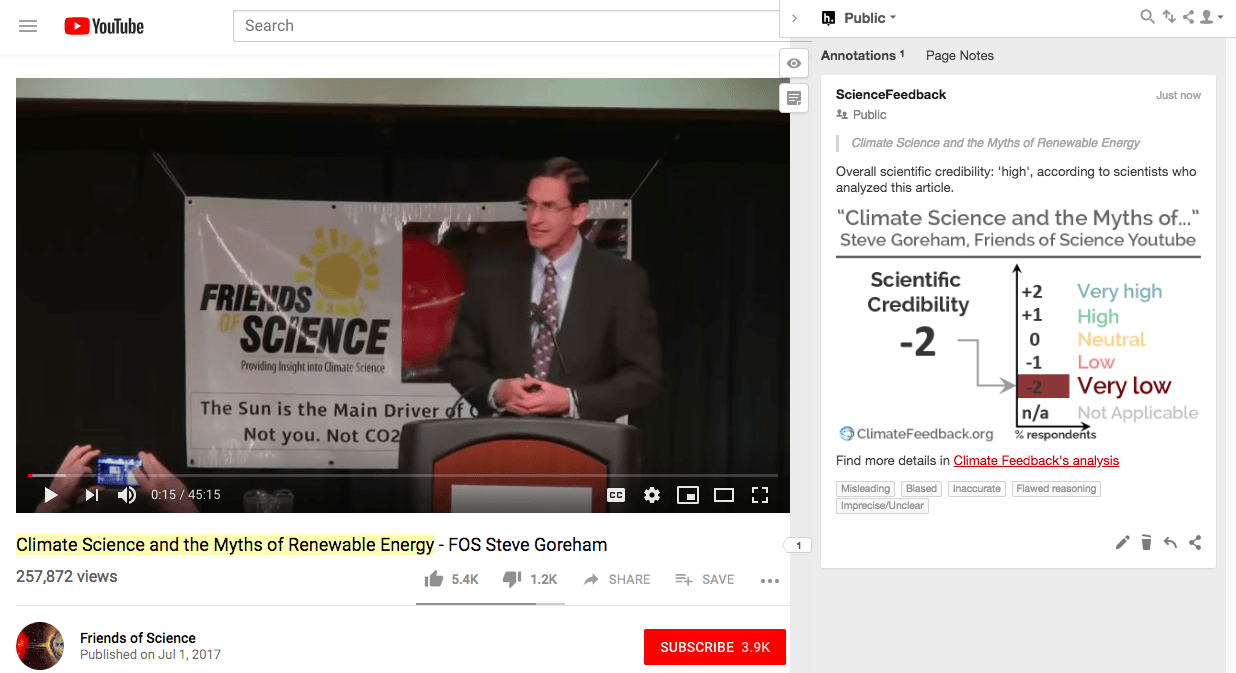 SUMMARY
This video of a talk by author and speaker Steve Goreham, posted by the YouTube channel "Friends of Science" has been viewed over 250,000 times and has been widely promoted by Youtube recently. In it, Goreham claims that climate change is not dangerous, and is not caused by humans.
Scientists who reviewed the talk found that it was comprised of a litany of common myths about climate science. Goreham misrepresents global temperature data, the physics of the greenhouse effect, and the factors controlling sea level rise, among many other things, as explained below by scientists.
UPDATE: As of July 11, 2019 the video has amassed more than 450,000 views on Youtube and keeps being shared regularly on Facebook. This illustrates that online misinformation can generate long-lasting damages.
See all the scientists' annotations in context. You can also install the Hypothesis browser extension to read the scientists' annotations in context.
REVIEWERS' OVERALL FEEDBACK
These comments are the overall assessment of scientists on the article, they are substantiated by their knowledge in the field and by the content of the analysis in the annotations on the article.
Stefan Rahmstorf, Professor, Potsdam University:
The video presents a litany of the usual climate denier talking points, none of which hold any water. It is full of outright false claims and does not even shy away from presenting a fake TIME magazine cover that supposedly warned of an ice age.
"Friends of Science" is an advocacy group "largely funded by the fossil fuel industry", according to Wikipedia. Already its name is intended to mislead.
Twila Moon, Research Scientist, University of Colorado, Boulder:
The information in this video is consistently false, using some correct ideas (e.g. Greenland is thinning at edges and thickening in the center) to build up incorrect explanations (e.g. so overall Greenland is not changing much). The video builds scientifically incorrect understandings for a wide variety of topics.
Patrick Brown, Assistant Professor, San Jose State University:
The video is of very low scientific quality. It stitches together dozens of unoriginal myths about climate science that have been debunked over and over again.
Mark Richardson, Research Associate, Colorado State University/NASA JPL:
This video is shameful and full of well-known tricks that deceive people about global warming. Almost every statement is false or misleading. Radiometer measurements of Earth's atmosphere confirm CO2's heating effect just as expected, and other instruments rule out the Sun or volcanoes. There are specific "fingerprints" in patterns of warming that match CO2 caused warming and we have measured increasing water vapour in the air in response, just as predicted decades ago. This video is an embarrassment.
Notes:
[1] See the rating guidelines used for article evaluations.
[2] Each evaluation is independent. Scientists' comments are all published at the same time.
The statements quoted below are from Goreham's video; comments are from the reviewers (and are lightly edited for clarity).
1. Greenhouse gas emissions are causing climate change by measurably strengthening the greenhouse effect in line with the expectations of physics and chemistry.

2. Scientists use records of past climate to build the context that helps us understand that humans are currently causing dangerous climate change.

3. Sea level rise is caused primarily by the measured loss of glacial land ice and the expansion of seawater as it warms.