Ten scientists analyzed the article and estimate its overall scientific credibility to be 'very low'. more about the credibility rating
A majority of reviewers tagged the article as: Biased, Flawed reasoning, Inaccurate, Misleading.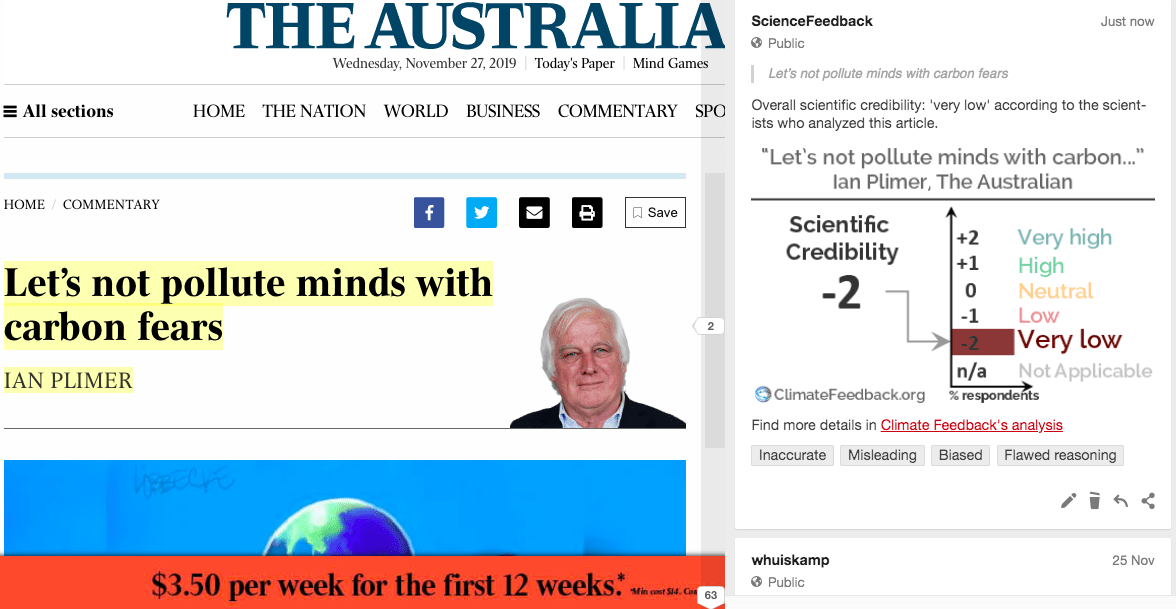 SUMMARY
This op-ed in The Australian by Ian Plimer, titled "Let's not pollute minds with carbon fears", makes many claims: that polar ice is not melting, that human-caused CO2 emissions can't cause climate change, that all life on Earth would die if CO2 levels dropped to half of current levels, and so on. None of these things are true.
As was the case with three other op-eds written by Plimer that we evaluated previously, reviewers unanimously rated the scientific credibility of this article "very low". In their comments below, the scientists identify a large number of inaccurate or incorrect statements about the way Earth's climate system works, how climate has changed during Earth's history, and what we know about the impacts of continued climate change.
See all the scientists' annotations in context. You can also install the Hypothesis browser extension to read the scientists' annotations in context.
REVIEWERS' OVERALL FEEDBACK
These comments are the overall assessment of scientists on the article, they are substantiated by their knowledge in the field and by the content of the analysis in the annotations on the article.
Mark Richardson, Research Associate, Colorado State University/NASA JPL:
This article will mislead readers. It uses nonsense logic, is clueless about the science, and says things which are wrong. Some of these false statements have been obviously wrong for years.
One example is claiming "[i]t has never been shown that human emissions of carbon dioxide drive global warming." This shows cluelessness about decades of important research. Direct measurements1 show that more atmospheric CO2 is causing enough heating to explain the observed warming, and we know that the CO2 rise is caused by us2. Those studies are two of hundreds that have built the overwhelming case that human CO2 emissions are now driving global warming.
Climate models are computer programs that crunch equations describing the laws of physics, and they also calculate that rising CO2 is driving the observed warming. They include changes in solar activity, and a study from 20063 found that climate models calculate strong effects of clouds on global warming—they could either amplify or slow CO2-driven warming. It is completely fake of Plimer's article to say that "[t]he role of the sun and clouds was not considered important by modellers".
Since our CO2 emissions are the main driver of recent warming, we expect a correlation between these emissions and global temperature. By plotting temperature against emissions and using standard statistics we can calculate the correlation, this example is for 1959—2014 (the correlation gets stronger if you use other datasets which extend to 2018).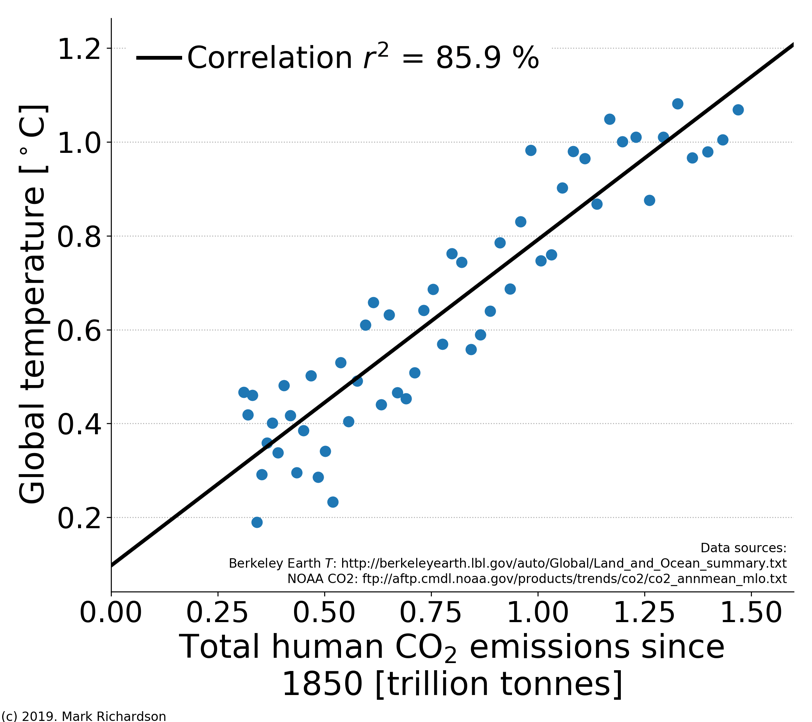 The data show a strong correlation since 1959, with temperatures being higher when cumulative human emissions are higher. It is simple for anyone with basic maths training and an internet connection to check this, and it is false to claim that "in our lifetime, there has been no correlation between carbon dioxide emissions and temperature" as the Australian's article does.
Correlation doesn't prove that one causes the other but this is a good example of how the Australian's article is inaccurate, relies on falsehoods, and will mislead readers.
Peter Landschützer, Group Leader, Max Planck Institute for Meteorology:
The entire article is just a list of inaccurate and false claims made by the author, contradicting the best scientific evidence (e.g. from measurement records) we have today.
Twila Moon, Research Scientist, University of Colorado, Boulder:
This article is a laundry list of falsehoods, misleading examples, and facts taken out of context. It is appalling that such a blatantly false article can be published in any credible news outlet today.
Martin Singh, Postdoctoral Research fellow, Harvard University:
This article is a mixture of misdirection, misleading claims, and outright falsehoods.
The author attempts to paint a picture of current climate change as simply a continuation of natural changes that have occurred in the past. But this neglects the clear evidence that climate change over the last two centuries has been shown to be largely man-made, that it is much more rapid that anything we have seen in the last two thousand years if not longer, and that it is occurring in the context of a globe with more than 7 billion human inhabitants.
The author makes incorrect claims about climate models failing (against what metric?), that climate change cannot be driven by a trace gas (how did we get out of the ice covered state called "snowball Earth", not to mention the role of carbon dioxide in many examples of climate change over Earth's history?), that carbon dioxide concentrations were higher at the beginning of the last ice age (they weren't).
Interspersed with these falsehoods are various long interludes about how carbon dioxide is essential for life and helps plants grow. This doesn't change the fact that the planet is getting warmer, and it doesn't change the fact that most studies expect agricultural yields to suffer as the world becomes increasingly warmer in spite of the carbon dioxide fertilisation effect.
The facts are that human activity has increased greenhouse gas concentrations in the atmosphere to levels not seen for close to a million years. Multiple lines of evidence from observations, modelling, and theory shows us that this increase in greenhouse gas concentrations leads to warming of the globe. As this warming continues, it will lead to sea-level rise, changes to rainfall patterns, and, for higher levels of warming, it may render parts of the world essentially uninhabitable for humans without air conditioning. To deny this strong and robust evidence is irresponsible in the extreme.
Katrin Meissner, Professor, University of New South Wales:
Virtually every single scientific statement in this article is either misleading or downright wrong. Some statements are almost amusing, such as, "there are no carbon emissions. If there were, we could not see because most carbon is black".
The Australian should be ashamed of itself. What next? An opinion piece on the flat Earth theory?
Willem Huiskamp, Postdoctoral research fellow, Potsdam Institute for Climate Impact Research:
This article is an absurd collection of non-sequiturs, distortions, and outright falsehoods that have been thoroughly debunked over the past decade. This is obvious propaganda from someone with close financial ties to the fossil fuel industry.
Dan Jones, Physical Oceanographer, British Antarctic Survey:
This article contains a large number of inaccurate and misleading statements. It is not grounded in our understanding of the Earth system.
Mark Eakin, Scientist, Coordinator of NOAA's Coral Reef Watch, National Oceanic and Atmospheric Administration:
There are a few points he makes that are true. The other 95% are not. Even those that are true are used to mislead the reader.
Alexis Berg, Research Associate, Harvard University:
Just like previous pieces by the same author (some of which were already addressed by Climate Feedback), this piece is an unorganized collection of the same old misleading "arguments" from climate change deniers that have been addressed thousands of times before, of which there are too many to summarize here.
It is frankly appalling that any newspaper that would like to retain some credibility would continue to publish such pieces.
Notes:
[1] See the rating guidelines used for article evaluations.
[2] Each evaluation is independent. Scientists' comments are all published at the same time.
The statements quoted below are from the article; comments are from the reviewers (and are lightly edited for clarity).
[For more information on this topic, read our review "NASA did not create global warming by manipulating data"]
[For more information on this topic, read our review "Analysis of 'About Those Non-Disappearing Pacific Islands'"]
[For more information on this topic, read our review "In CNN interview, William Happer misleads about the impact of rising carbon dioxide on plant life"]