Eight scientists analyzed the article and estimate its overall scientific credibility to be 'very low'. more about the credibility rating
A majority of reviewers tagged the article as: Biased, Cherry-picking, Flawed reasoning, Inaccurate, Inappropriate sources, Misleading.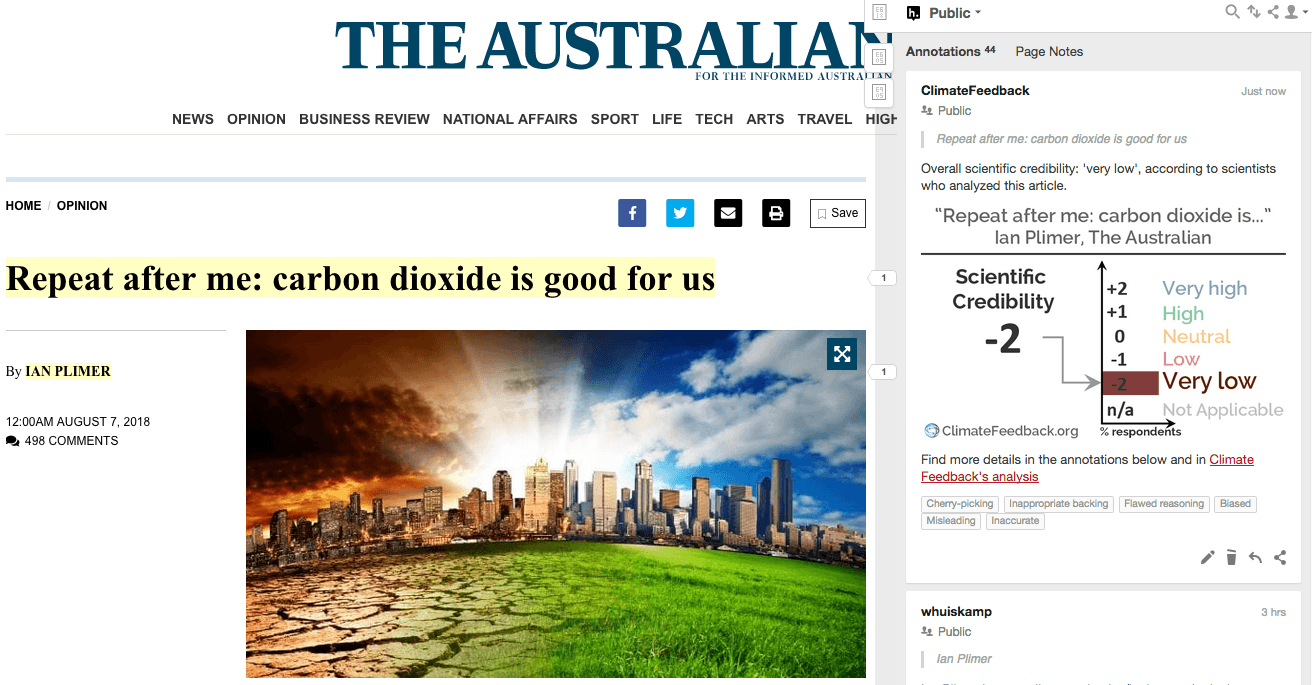 SUMMARY
This op-ed published by The Australian, written by Ian Plimer, makes a large number of claims that run counter to science and observations or are the expression of fallacious reasoning. The title of the op-ed—"Repeat after me: carbon dioxide is good for us"—reflects how it rejects evidence of harmful consequences of human-caused climate change and only cherry-picks a few possible benefits.
Scientists who reviewed the story found that it distorted or ignored published research on many topics. Plimer also does not support his extraordinary claims with evidence or research.
See all the scientists' annotations in context. You can also install the Hypothesis browser extension to read the scientists' annotations in context.
REVIEWERS' OVERALL FEEDBACK
These comments are the overall assessment of scientists on the article, they are substantiated by their knowledge in the field and by the content of the analysis in the annotations on the article.
Richard Betts, Professor, Met Office Hadley Centre & University of Exeter:
This deeply ill-informed article repeats several of well-worn but deeply misleading and mistaken assertions, which have been shown to be wrong many times.
Katrin Meissner, Professor, University of New South Wales:
This article is an impressive collation of the well known, scientifically wrong, and overused denier arguments. It is ideologically motivated and, frankly, utter nonsense.
Martin Singh, Postdoctoral Research fellow, Harvard University:
This article is appalling in its misrepresentation of climate science. A large majority of the statements made about the science of climate change are misleading or flat out wrong.
Human emissions have increased the carbon dioxide concentration on Earth by over 40%, but Plimer's article gives the impression that the human contribution is negligible.
There are mountains of evidence that carbon dioxide has played a major role in influencing Earth's climate now and in the distant past, but Plimer rejects this with no justification.
Willem Huiskamp, Postdoctoral research fellow, Potsdam Institute for Climate Impact Research:
This article is an amalgamation of logical fallacies, misleading talking points, and downright factually incorrect statements regarding the physics of the climate system. Every talking point in this article has been debunked many times over and it is astonishing that this was published.
Peter Landschützer, Group Leader, Max Planck Institute for Meteorology:
The article contains several inaccuracies and false statements. Furthermore, flawed reasoning is used, such as the "short atmospheric residence time" argument.
Twila Moon, Research Scientist, University of Colorado, Boulder:
The article includes many outright lies as well as unrelated points made to feel as though they are connected to climate. I am actually surprised that any news outlet would publish an opinion piece with so many falsehoods, easily debunked by even cursory reference to decades of published work from scientists and scientific organizations around the globe. An appalling piece of rhetoric.
Mark Richardson, Research Associate, Colorado State University/NASA JPL:
This article claims things that aren't true. For example, 1980s papers calculate the importance of clouds, climate models projected many changes we've now seen and almost all of the increase in atmospheric carbon dioxide is due to human emissions. Temperatures correlate strongly with cumulative human emissions and since 1980 the correlation with solar activity is almost zero. There are false statements about all these and more. A 1990s judgment applies to this article: "everyone in this room is now dumber for having listened to it".
(This rating is a personal opinion and does not reflect the views of any of my employers or affiliations.)
Notes:
[1] See the rating guidelines used for article evaluations.
[2] Each evaluation is independent. Scientists' comments are all published at the same time.
The statements quoted below are from the article; comments are from the reviewers (and are lightly edited for clarity).