Seven climate scientists analyzed the article and estimate its overall scientific credibility to be 'very low'. more about the credibility rating
A majority of reviewers tagged the article as: Biased, Flawed reasoning, Inaccurate, Misleading.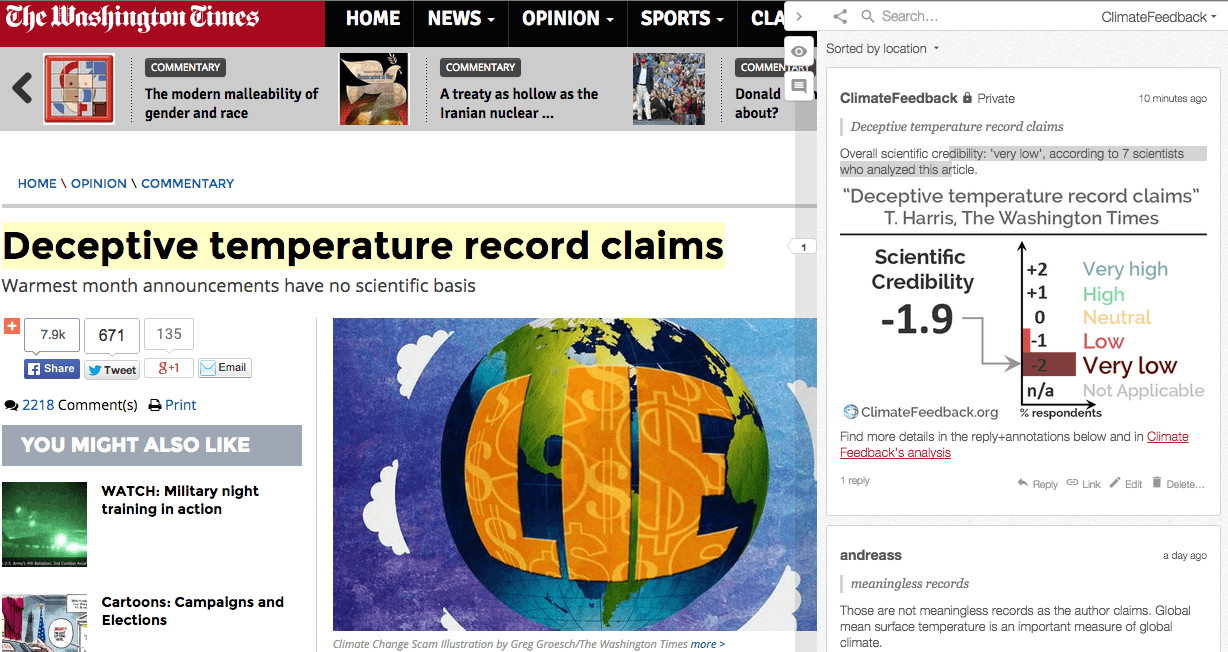 SUMMARY
Our reviewers unanimously characterize this article as misleading and in disagreement with elementary science. The author uses a scientifically baseless argument to support his claim that an average global temperature for the surface of the Earth is a meaningless quantity.
See all the scientists' annotations in context
REVIEWERS' OVERALL FEEDBACK
These comments are the overall opinion of scientists on the article, they are substantiated by their knowledge in the field and by the content of the analysis in the annotations on the article.
Shaun Lovejoy, Professor, McGill University:
The argument has two parts: a) that the accuracy of the measurements is too low to claim a record, b) that the global temperature is meaningless.
a) is an affirmation that is not supported by the facts (the actual accuracy is indeed enough to affirm that the month is hottest – or at least amongst the hottest).
b) This is a repetition of a sophisticated but irrelevant argument put forward many years ago by Essex and McKitrick.
Victor Venema, Scientist, University of Bonn, Germany:
The article is deceptive and claiming that a global average temperature does not exist is simply wrong.
Dargan Frierson, Associate Professor, University of Washington:
The only deception here is by the author, who uses a false scientific claim (that global average temperature does not exist) to back up his ridiculous assertion that global warming doesn't matter.
Andreas Schmittner, Associate Professor, Oregon State University:
The article claims that global mean temperature is not a meaningful measure of climate, contrary to climate science and its standard practices. It is a typical denial argument that has no foundation in science.
Alexis Berg, Research Associate, Harvard University:
This article recycles old, specious skeptic talking points about how the Earth's global temperature does not exist, cannot be computed and/or is irrelevant to its inhabitants. All long-debunked nonsense.
John Abraham, Professor, University of St. Thomas
This article makes several inaccurate claims and the authors demonstrates a nearly complete lack of knowledge about measurement of the Earth's climate. The claims about temperature accuracy, ocean measurements, thermodynamics and others are just plain wrong.
Andreas Klocker, Physical Oceanographer, University of Tasmania:
Whereas this article claims that 'Warmest month announcements have no scientific basis' I would say that this article does not have any scientific basis.
Notes:
[1] See the rating guidelines used for article evaluations.
[2] Each evaluation is independent. Scientists' comments are all published at the same time.

The statements quoted below are from the article; comments and replies are from the reviewers.
1. Through careful analysis, researchers effectively track changes in global temperatures.

---
2. Continued climate change comes with serious impacts for humans and other species.

---