Eight scientists analyzed the article and estimated its overall scientific credibility to be 'very high'. more about the credibility rating
A majority of reviewers tagged the article as: Accurate, Insightful, Sound reasoning, Unbiased.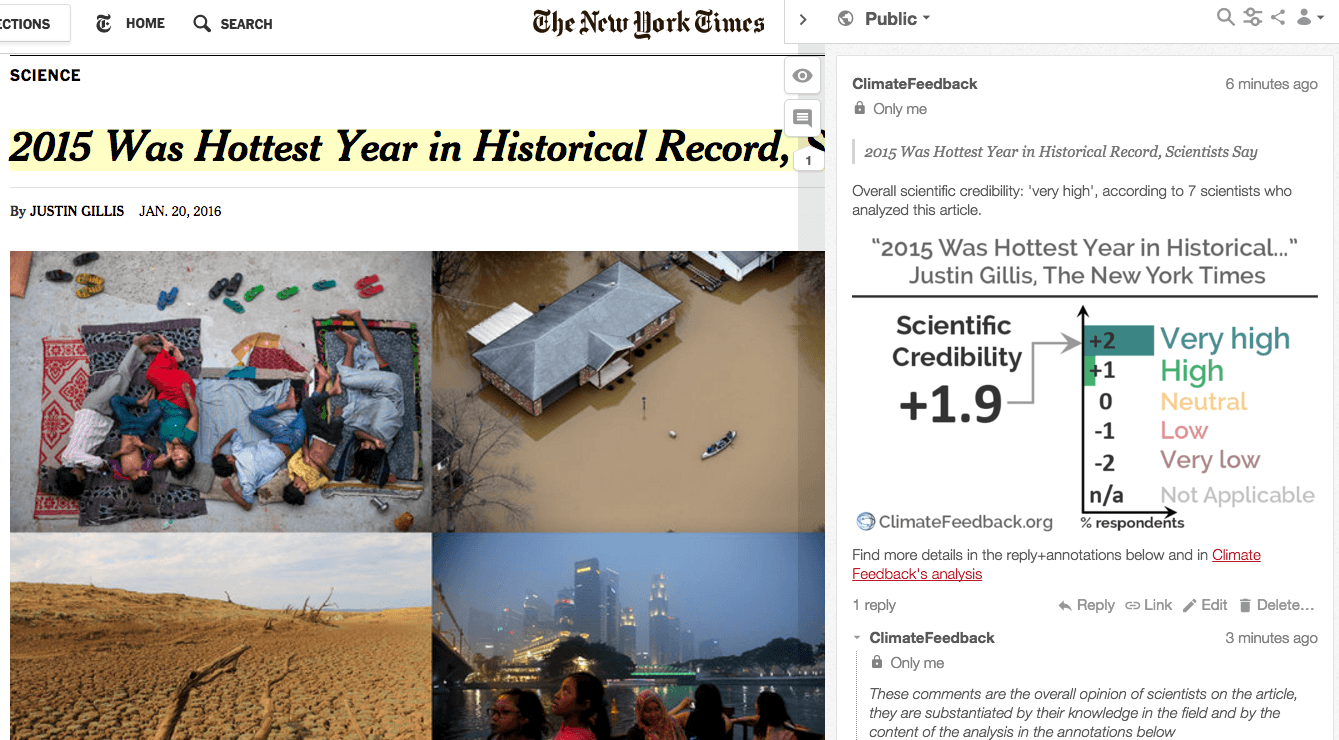 SUMMARY
The article accurately covers the news that the global surface temperature of the planet in 2015 has set a new record, well above any previous measurement.
It correctly explains that this new record is due to the combined effects of a strong El Niño event (currently at its peak intensity) in the Pacific, and the continued global warming effect of human emissions of greenhouse gases.
See all the scientists' annotations in context
REVIEWERS' OVERALL FEEDBACK
These comments are the overall opinion of scientists on the article, they are substantiated by their knowledge in the field and by the content of the analysis in the annotations on the article.
James Renwick, Professor, Victoria University of Wellington:
A very nice, well-written, and factual article, including comment from some of the globe's leading climate scientists.
Stephan Lewandowsky, Professor, University of Bristol:
Pretty much everything in this article is correct and based on peer-reviewed literature.
Eric Guilyardi, CNRS Research Director, Université Pierre et Marie Curie & Professor, University of Reading:
A well documented article with properly quoted top experts. The many facts to consider on this topic are mostly there.
Julien Emile-Geay, Assistant Professor, University of Southern California:
Very balanced article looking at multiple sources of information and interviewing qualified climate scientists.
Victor Venema, Scientist, University of Bonn, Germany:
A joy to read a US newspaper article that accurately reports on the changes in the global temperatures.
Rasmus Benestad, Senior scientist, The Norwegian Meteorological institute:
The article accurately reflects the scientific findings that 2015 is the hottest year on record.
Emmanuel M Vincent, Research Scientist, University of California, Merced:
An accurate and well documented report on the finding that 2015 is the hottest year on instrumental record by a wide margin.
Andreas Schmittner, Associate Professor, Oregon State University:
This article is an excellent example of conveying scientific findings.
Notes:
[1] See the rating guidelines used for article evaluations.
[2] Each evaluation is independent. Scientists' comments are all published at the same time.
---
Below is a list of a few statements made by Justin Gillis in his article along with comments and replies made by scientists.
"When temperatures are averaged at a global scale, the differences between years are usually measured in fractions of a degree"
James Renwick, Professor, Victoria University of Wellington:
Important to understand this. Global/annual average temperatures change by only a tiny fraction from year to year, usually. The jump from 2014 to 2015 is really remarkable.
---
"The strong El Niño has continued into 2016, raising the possibility that this year will, yet again, set a global temperature record"
Eric Guilyardi, CNRS Research Director, Université Pierre et Marie Curie & Professor, University of Reading:
Yes, it is likely that 2016 will also be a near record year for global surface temperature. It is also possible that 2017 will see a La Niña occur (usually following a large El Niño) and that this year will be cooler than 2015 and 2016. This is why detecting climate change and a human influence cannot be done on just a few specific years. Climate scientists consider several decades to average out the naturally variability of the climate. A few very cold days in spring do not imply winter has arrived, do they?